Current Projects
Current Projects
Janis currently performs with some of the Midwest's best original and tribute bands. She is available for hire for additional studio and live opportunities.
FAMILY GROOVE COMPANY
FGC is Janis' longest-running project, an original jazz/funk/rock quartet established in 2001 when the band members met as students at Musicians Institute in Los Angeles.  FGC has performed almost 1,000 shows from coast to coast and has independently released 4 full-length albums.  The band currently performs monthly at select Midwest venues, and has one of the longest running residencies at Summer Camp Music Festival (15 years and counting!).
BIG SUIT

Big Suit is Chicagoland's newest Talking Heads tribute act.  Catch Janis paying homage to iconic bassist Tina Weymouth in this larger-than-life 9-piece band with one of the most compelling "David Byrnes" to hit the stage since the original.  This funk–rock ensemble of stellar musicians offers up a truly inspirational, "Once In A Lifetime" connection, and performs at theaters and festivals in the Chicago area.
SUN BEARD
Sun Beard started in 2014 as a solo project for Matt Robinson from Old Shoe.  After releasing an album featuring a myriad of local musicians and performing scattered shows over the years with varying lineups, the band finally landed on its current incarnation in 2018.  This four-piece roots-rock powerhouse features Matt's heartfelt songwriting, Scott Tipping's screaming guitar leads, Jon Reed's inspired drumming, and of course, Janis' signature grooves.
TERRAPIN FLYER
Janis is a regular in this Chicago-based Grateful Dead tribute act.  Founded in 1999, Terrapin Flyer is one of the country's premier touring Grateful Dead acts whose special guests have included Vince Welnick, Melvin Seals, Mark Karan, and Tom Constanten, along with a constant rotation of talented local musicians from around the country.  Each show is different, with Janis bringing her special blend of funk to this beloved style of music.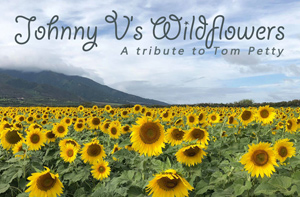 JOHNNY V'S WILDFLOWERS
Johnny V's Wildflowers is a Tom Petty tribute act, fronted by Johnny V, one of Northwest Indiana's most well-known and charismatic performers.  The band touches upon all corners of Tom Petty's catalog, from hits to deep cuts to side-projects, and brings their own flavor to this classic and beloved music.  Also featured in this band are "Kid Mikey" Schroeder on drums, Rich Fobes on keys, and David Gans on lead guitar.
ALTHEA GRACE BAND
Althea Grace is a young singer-songwriter and multi-instrumentalist from the Chicago area. Althea's music can best be described as new age blues with heavy doses of jazz, funk, and soul featuring her powerful, soulful voice and guitar skills to match.  Janis and Althea have known each other for many years, and performed together for the first time in early 2018.  You can expect many more collaborations in the future from these fellow female talents!
JON GRAM & THE SWAY
Jon Gram and the Sway is an acoustic trio featuring Jon Gram on guitar and vocals, Larry Beers on percussion and vocals, and Janis on bass and vocals.  Formed via virtual collaboration during the pandemic, Jon Gram and the Sway launches for real-life audiences in the Summer of 2021.
SIDE/SUB PROJECTS
In addition to the projects above, you can also occasionally find Janis stepping in on bass on the following.
GUITARRA AZUL
Janis is an occasional sub for Chicago's premier Flamenco guitar group, Guitarra Azul.  With world class musicianship, spirited dance, irresistible rhythm, and unforgettable melodies, Guitarra Azul provides one of the most unique experiences of Janis' varied band roster. 
SHRED IS DEAD
Shred is Dead is the brainchild of guitarist virtuoso Marcus Rezak.  Performing across the country with an ever-changing ensemble of musicians, Shred is Dead pays homage to the Grateful Dead with progressive renditions of this classic beloved music.  It's like the Dead on steroids, with instrumental and vocal performances that harvest a pure blend of inspirational jams and fierce rock 'n roll.  Janis is a regular for the project's Chicago-area performances.
JOE MARCINEK BAND
The Joe Marcinek Band is a unique concept, with a lineup that changes for each show or tour.  Bandleader and guitarist Joe Marcinek handpicks players from all ends of the musical spectrum and brings them together for moments of exciting collaborations and improvisation.  Janis has been a regular performer in the JMB since 2012, and has performed alongside artists like Bernie Worrell (Talking Heads), Alan Evans (Soulive), Jason Hann (SCI), Jennifer Hartswick (TAB), Allie Kral (YMSB), and many more!